A history of innovation
To be over 500 years old, is to have beautiful memories and an exceptional heritage but it is also the proof of a capacity of innovating and renewing itself constantly to cross History and its ups and downs.
Go back in time, on the track of La Poste Group's innovations.
La Poste invested in e-health and launched a free application connecting patients and health professionals. With Docapost, La Poste proposes an online platform, the digital health space, which securely stores patient medical files (their digital health record). It guarantees its users complete confidentiality and 24-hour access to their information. La Poste pioneers, develops and operates the connected health services of the future for its customers.
2017
Parcel delivery by drones
Further, faster, higher! La Poste has always leveraged the latest innovations for the benefit of its users. In 1984, it launched the first high-speed postal train, to carry mail faster all over France. In 2017, it improved the mobility and geographical adaptability of its postal services, by launching the first parcel delivery line using drones.
2015
Public service centres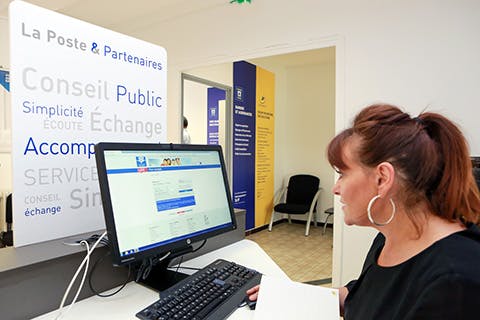 To enhance its strong regional network all over France, and to guarantee access to public services for all French citizens, even in the most isolated rural areas, La Poste launched its "public service centres" in post offices, where customers in each region can complete their administrative processes relating to various services (the Pôle Emploi employment service, social security health insurance, pension insurance, family benefits), with support from employees for online procedures.
A pioneer in low-carbon transport, in 2010 Le Groupe La Poste took a step further towards eco-responsibility, by becoming the figurehead of a purchasing group designed to foster the emergence of a national electric vehicle sector. At the time, La Poste had committed to put together a fleet of 10,000 electric vehicles by 2015. Today, this fleet is the largest in the world, with over 30,000 of these vehicles.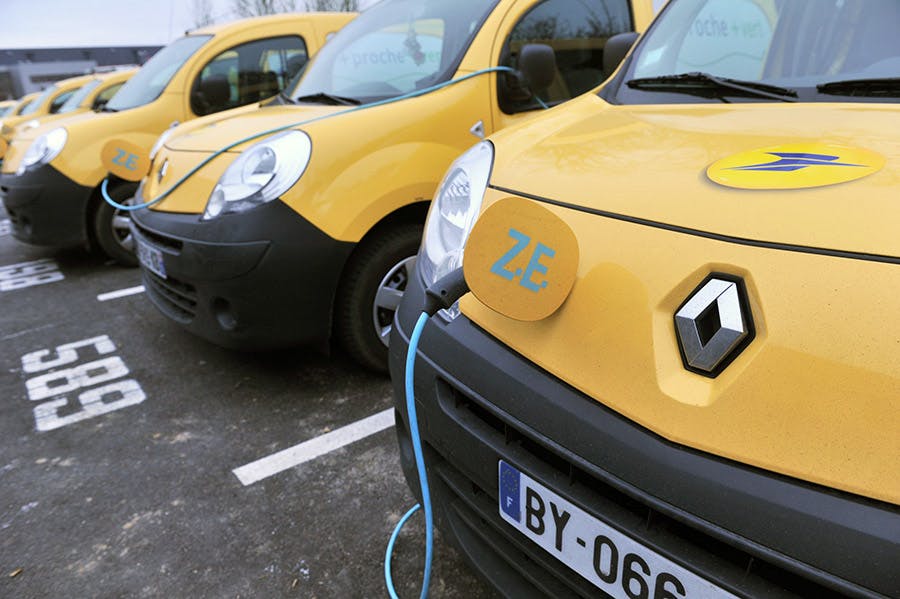 As one of the first major players in the Internet in France at the very start of the 21st-century, La Poste created the digital mailbox to complement the well-known yellow post boxes seen in the country's streets.  A 2.0 tool to securely receive and send online correspondence, with a dedicated "@laposte.net" email address. Since the 2000s, La Poste has become France's 5th biggest webmail operator, with 3.4 million active customers today.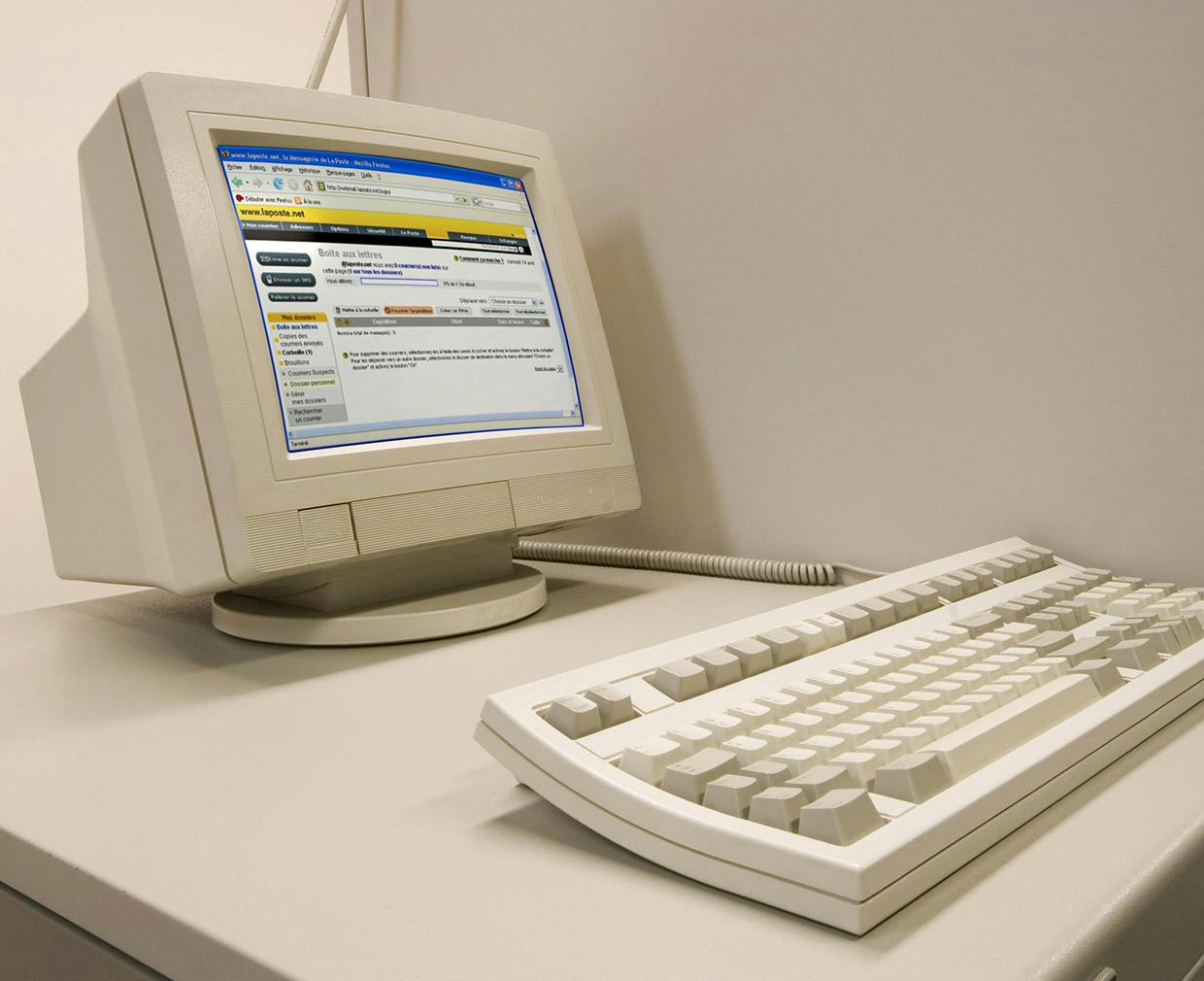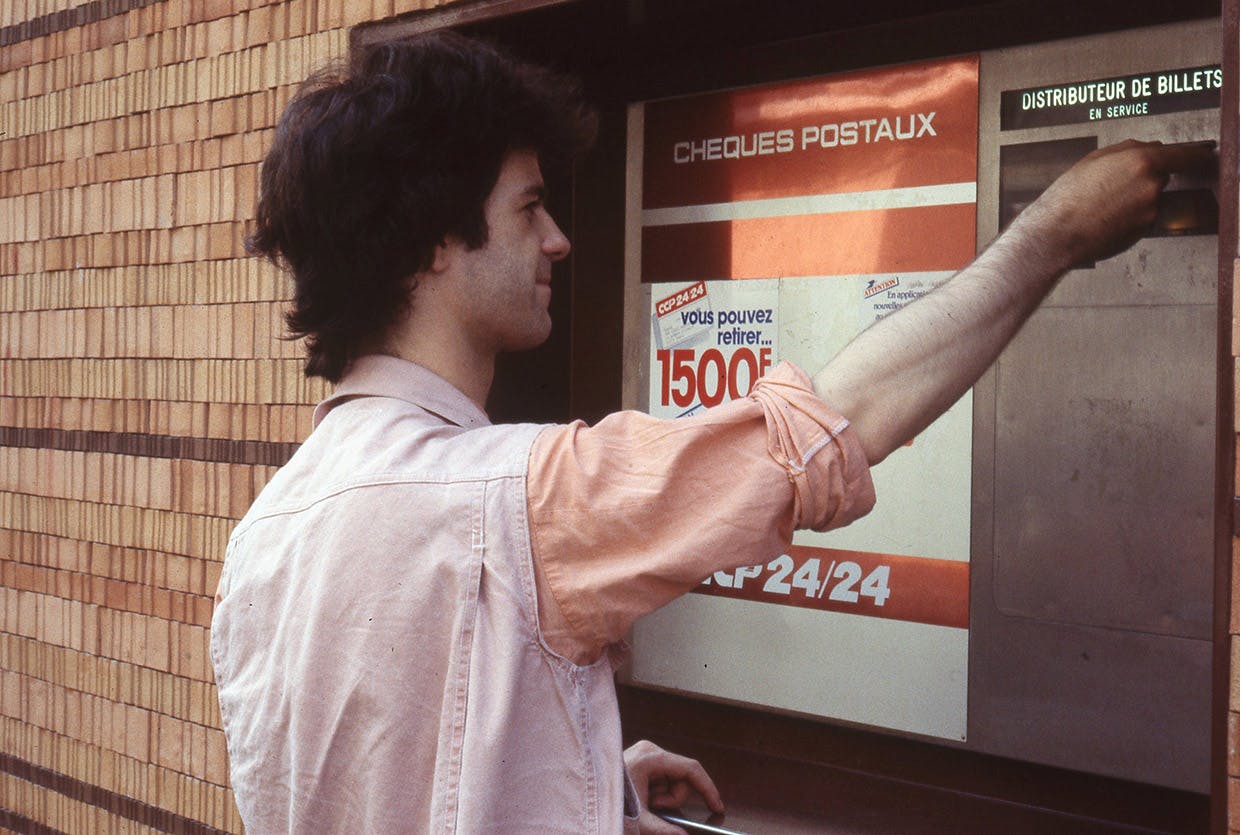 In 1975, the first ATMs, which used a magnetic card (the ancestor of modern credit cards) came into service in and outside post offices. They would make users' lives easier, allowing them to draw out cash easily, even when post offices were closed: at night, at weekends, and on public holidays. In 1981, there were 432 ATMs in France. Today, there are 7800 ATMs.
From 1965, La Poste anticipated an increased volume of mail, and mechanised the sorting process by introducing the postcode. It initially had two figures, increasing to five in 1972. Previously done manually by employees, mail sorting became mechanical thanks to optical reading, which allowed faster delivery and the introduction of the next-day delivery benchmark. In 1966, cedex (designed for companies) also appeared.
1939-1945
La Poste supports the French Resistance
During the Second World War, La Poste employees supported the actions of the Resistance by intercepting denunciation letters sent to the German authorities. This helped to avoid many arrests. The people denounced were hidden, and once they were safe, the letters were finally delivered. Present all over the French territory, La Poste employees were able to precisely map the German troops wherever they were stationed. This valuable information helped the Allied troops liberate the country in 1944.
La Poste during the Great War
During the First World War, La Poste played an essential role in keeping up the morale of troops, by delivering mail from their families to the front. Almost four billion letters, parcels and postcards were delivered, from those not on the front. Working to simplify processes for everyone, even during the darkest periods of History, in 1916 La Poste created the first automatic stamp dispensers. During this conflict, La Poste paid a heavy price: 3700 employees were killed, but women trained in mail delivery took over their work.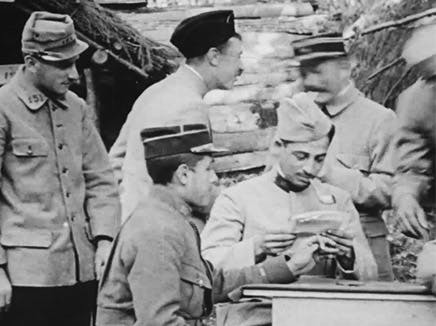 1901
The very first electric car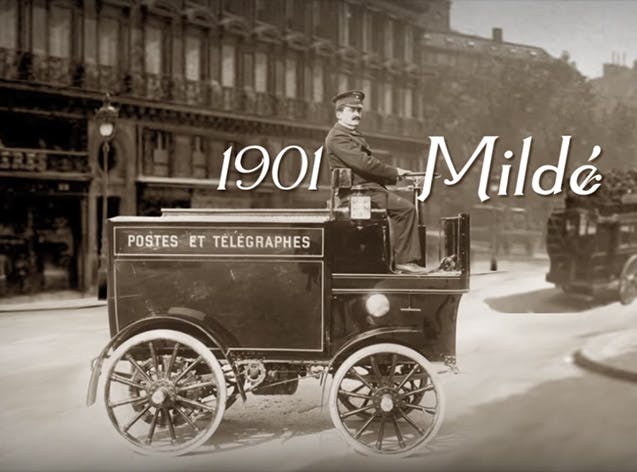 La Poste did not wait for the latest progress in eco-responsible vehicles to start using them. In 1901, the first post car to enter service was electric, incontestably making La Poste a pioneer in this domain. Today, La Poste has the world's largest electric vehicle fleet, with over 30,000 vehicles in service.
1881
The birth of a national savings bank
With 6000 post offices across the whole country at the end of the 19th century, La Poste was the Third Republic's partner of choice for creating the Caisse Nationale d'Épargne (national savings bank) through the Law of 9 August 1881. Its aim?  To help French people save. In this role, La Poste contributed to the emancipation of women, who obtained the right to open a Livret A passbook savings account without permission from their husband.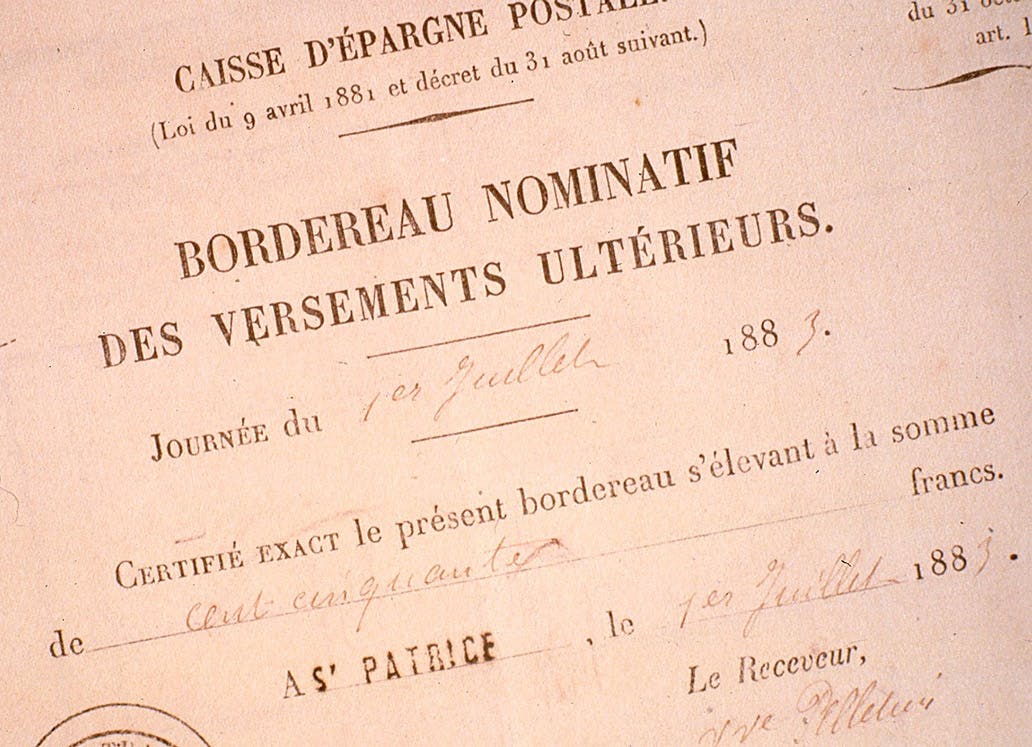 1830
Mail delivery across all of France
Mail delivery, which had essentially been confined to major cities and Paris since the creation of the Petite Poste in 1760, was extended to the whole country from 1830. From this point on, every other day, mail carriers took letters and parcels out into the countryside, even reaching the most remote zones. It was not until 1864 that there were deliveries six days a week.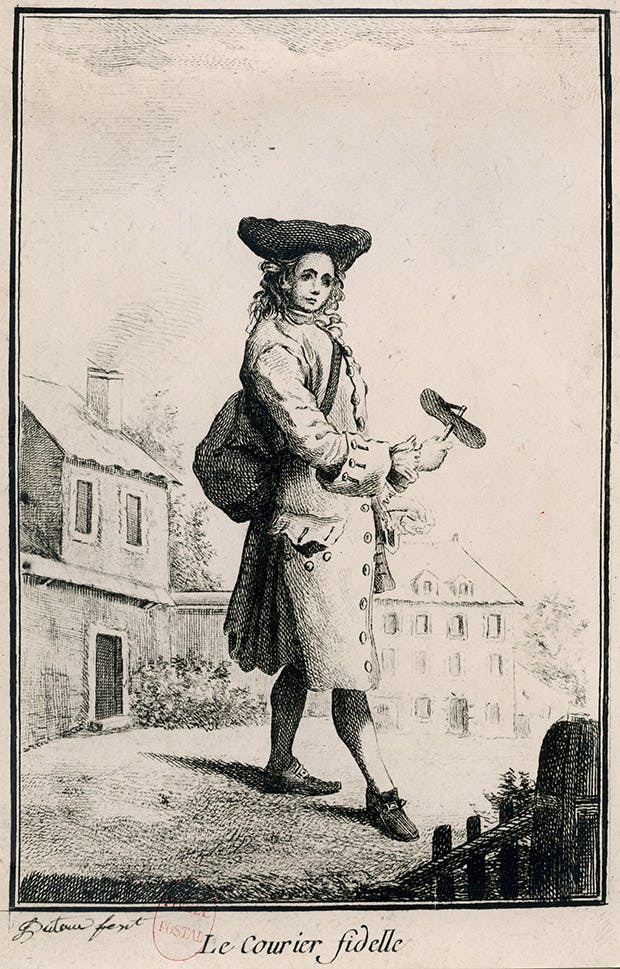 1790
Privacy of correspondence with the postal employees' professional oath
Under the Ancien Régime, if he so desired, the king could open any private correspondence to see its contents. He also had at his disposal an intelligence service responsible for the postal inquisition. Privacy of correspondence was not guaranteed. The French Revolution ended this abusive practice: in 1790, the postal employees' oath was introduced, and a decree of 10 July 1791 brought in secrecy of correspondence, which was strengthened in 1829 by the creation of registered mail.
Jean-Jacques Renouard de Villayer, a member of the Académie française, revolutionised mail delivery in Paris by installing the first post boxes. Correspondence bearing a postage stamp could circulate quickly within the city. However, it was not until 1760, when Claude Humbert Piarron de Chamousset created the Petite Poste (a local postal service for the people) that post boxes became more widespread. By the 20th century, they were a postal service essential seen on streets all over the country.
In the first half of the 17th century, the French kingdom had 623 postal pick-up points. Present in each region, they were essentially for the use of the king and his government. To carry mail quickly all over the country by horse, a La Poste road network was set up under Louis XI. This network quickly came to be used for transporting people, giving rise to the first road system, which was mapped in 1632 by Nicolas Sanson, under the name "Les Postes de France".