CES 2019: Cottos Médical, a fun way of monitoring cognitive performance
Providing senior citizens with psychomotor exercises in care facilities.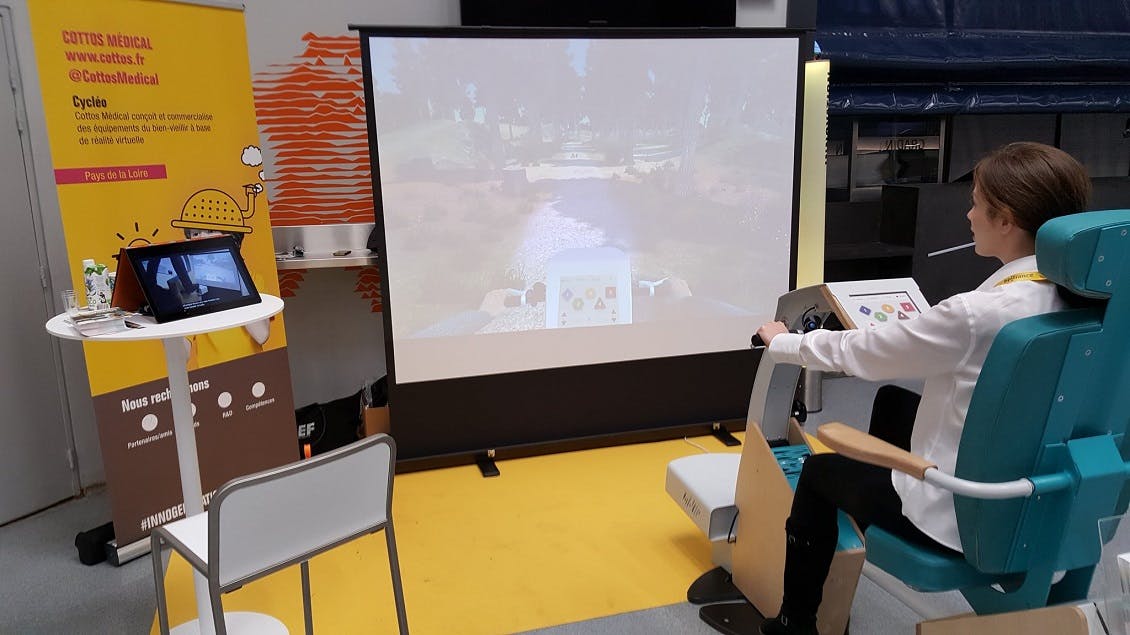 30'' to convince
With Cycléo, Cottos Médical can improve cognitive performance amongst senior citizens in a fun way whilst closely monitoring their development over time. A fully-fledged connected simulator, Cycléo is similar to a traditional bicycle, with pedals, handlebars and brakes, but above all, it offers senior citizens the opportunity to head out on a virtual bike ride. It is auto-configured depending on their motor and cognitive skills thanks to its smart interface.
Cycléo is the result of Michel Porhel's own convictions as one of the co-founders of Cottos Médical. As a retirement home owner himself, he became convinced of the need to help his elderly residents break free from their usual routines and get moving to remain in good health. He pledged to unleash the vitality of senior citizens spending time in care facilities (retirement homes, day centres, residential care facilities, etc.).
---
Cycléo gets residents and staff involved in a simple but popular and worthy activity. It helps senior citizens perform a physical activity under safe conditions whilst immersing them in a stimulating environment.
Cycléo is structured around four key pillars to offer a fun way of monitoring cognitive performance:
Automated tracking, which measures how residents' cognitive abilities develop over time;

Tailor-made cycle routes, which offer adjustable difficulty levels depending on the tiredness, state of health and overall performance of users;

Entertaining journeys through virtual environments, which all take place in a secure environment.
Cottos Médical and their team of around ten employees manage the entire cycle of this 100% made-in-France product, supported by a group of local SMEs. After just 15 months on the market, Cycléo has already introduced their system to 48 locations where they've helped more than 2,000 residents pedal their way across 20,000km!
In 2018, Cottos Médical won four major awards, including the 2018 SilverEco Award in the leisure/culture category (Silver Night 2018); the Maine-et-Loire Regional Innovation Award in the revolution category; and the Futur.e.s Audience Award.
More information is available on the Cottos website.