CES 2019: Jaab
Jaab lets your children make small everyday purchases with a contactless payment device. This innovation was presented at La Poste's stand at CES 2019.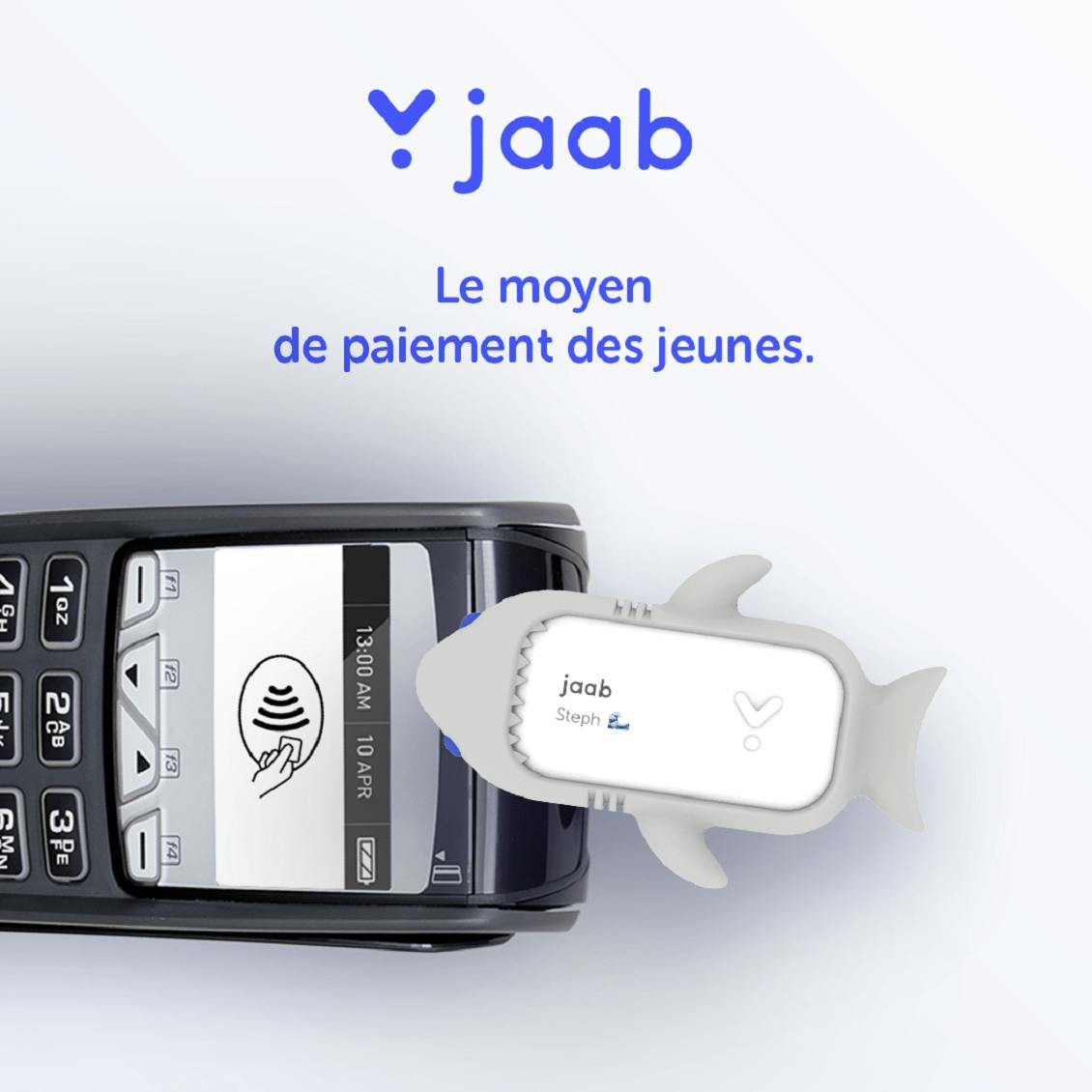 30'' to convince
Jaab is personalisable and more practical than cash, allowing children to use a contactless payment device to make small everyday purchases. Parents can use an application to put more money on the device, monitor the remaining balance, and receive notifications with each purchase (amount, time, and place). If the device is lost, they can freeze it immediately. With Jaab, La Poste is making family life simpler.
The Jaab device is the product of an entrepreneurial collaboration between four people from the Docapost IoT's IO Team. This project is supported by Docapost, Le Groupe La Poste, and La Banque Postale, which has become one of the project's strategic partners.
---
Jaab is a payment tool for young people, customisable, hand-held, and easily carried in a pocket, pencil case, or backpack. Parents can load money onto the "Jaab" using the dedicated application. The child can then take their Jaab with them and use it when they need to.
The teams that developed the Jaab believe that future generations won't even know what cash is. Jaab replaces classic pocket change with a simple and secure device, adapted to the way young people use technology, and to their need to learn and become more independent.
The Jaab can also be configured to only work in a specific area (city, neighbourhood), or at a pre-selected list of shops. New entities, like cities, towns, and chain stores may therefore soon join the project.
When the child buys something at the bakery using contactless payment, for example, the parent will receive a notification with the amount, location, and time of the purchase. Children won't have to ask their parents for pocket money any more, and parents can monitor their children's spending habits!
A dozen families have been testing out the Jaab since June 2016. Feedback from these users helped to define the scope of the product's features and to plan for future custom features that will be added to the base service over time. Both children and their parents like the Jaab device.
Other options are also currently under development. The Jaab might even become a tool for accessing public services (transportation, school cafeteria, cultural spaces, etc.)! It may also be adapted for other populations that don't want to bother with case (young people going out on the town, people who use connected devices but are out of cash, disabled persons, dependant seniors, etc.).
Digitising interaction
Docapost, a subsidiary of La Poste, is currently developing two more digitisation solutions mostly geared towards local authorities: Citoyen 360° and Toucan.
Citoyen 360° is an online platform that lets citizens access a variety of public services from their smartphones, computers, or post office machines. For young people, services include topping up youth passes, viewing leisure services hours (e.g. swimming pools, libraries, gyms), registration for driving theory tests, lists of neighbourhood associations, and voting on local matters up for public decision. For families: family perks, Watch Over My Parents, ordering large-family cards, viewing lists of schools, etc.
Toucan is a youth pass in the form of a smart device with a chip that lets young people take advantage of the services offered by their municipality.