CES 2019: Geoptis
Innovations enabling local authorities to optimise road management and meet the new topographic requirements. A product range to be presented at CES 2019, at the La Poste stand.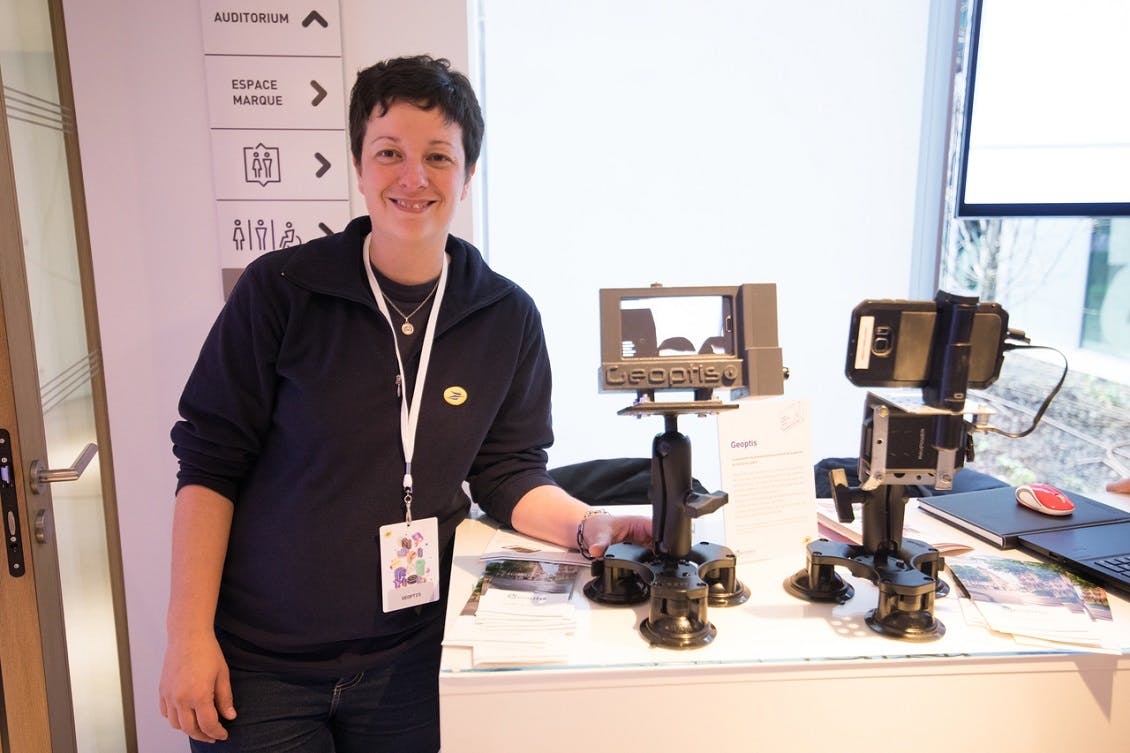 30'' to convince
Specialising in portable topographic survey devices, Geoptis enables municipalities to audit their road infrastructure in order to better prioritise their maintenance work and investments. Geoptis also enables them to comply with their legal mapping obligations by providing a way to create a simplified outline of the streets (plan corps de rue simplifié, or PCRS) or very large-scale reference map (référentiel très grande échelle, or RTGE).
Geoptis combined the proximity of Le Groupe La Poste with its technological know-how and that of its industry partners to develop its offer. For the road infrastructure audit, it works in collaboration with its partner, Logiroad, a start-up created by two researchers at IFSTTAR (French institute of science and technology for transport, development and networks) and specialised in road management software.
---
According to the communes who used it, the road infrastructure audit is now a proven innovative solution with exceptional value-for-money resulting from its full industrialisation and use of the postal delivery route.
Whether to audit road infrastructure, georeference street furniture or design maps of the region, Geoptis, a wholly-owned subsidiary of Le Groupe La Poste, puts its expertise at the disposal of local authorities, enabling them to optimise the management and maintenance of their urban structures (roads, pavements, street furniture, aerial networks, etc.)
2/3
of the sums
invested in the road network go to maintenance work
10
times more costly!
the cost of rehabilitating the road network is 5 to 10 times higher than that of prevention actions
20,000
kilometres
have already been audited by Geoptis
Today, Geoptis, a specialist in gathering and processing geographical information, offers two solutions: road infrastructure audits and detailed mapping.
Road infrastructure audits
Every day, La Poste vehicles stroll through the streets of France. Geoptis offers a solution which makes it possible to carry out a full diagnosis of the road infrastructure, optimise maintenance and prioritise any works needed. La Poste vehicles are equipped with cameras which film the road and its surroundings on postal delivery routes. The videos obtained are analysed in Le Mans by a review unit comprised of La Poste employees specially trained to identify road degradation according to a method developed by the laboratoire central des Ponts et Chaussées (bridges and roads central laboratory). Then, engineers use the data produced to establish a detailed diagnostic and recommend works. These audits and recommendations will make decision-making easier for local authorities in terms of road infrastructure management while optimising maintenance spending over several years. This process also enables the creation of a geolocated inventory of street furniture.
Detailed mapping
Geoptis also offers high-precision modelling via a specific vehicle equipped with a 3D urban scanner. This solution allows local authorities to meet their legal obligation of creating topographic maps with a 0.5 m precision (instead of 1.5 m previously) between 2019 and 2026, according to the French DT-DICT reform (anti network damage - Building without destroying). The Geoptis vehicle travels throughout the city, captures immersive 360° views and scans the area in 3D with centimetric precision. This data is then vectorised and used by a team of geomathematicians to produce high-precision 2D maps. In this way, local authorities have access to reports which enable them to best position their underground networks (water, gas, etc.) to avoid damage during works.
To learn more, visit the Geoptis website.
New services under study
Geoptis is currently working to develop new offers by applying its "road infrastructure audit" know-how to other services for the benefit of local authorities, citizens and companies. Two possible solutions are currently being studied: the use of videos (georeferencing of street furniture and public lighting, sanitation, vacant business premises, maintenance of green spaces, billboards, etc.) and the deployment of other types of sensors (air quality, noise, mobile network coverage hydrometry, temperature, heat loss, etc.) An air quality measurement solution developed with Atmotrack may be launched in the first half of 2019.