Cergy : safer roads with Geoptis
The town hall of Cergy (Val-d'Oise) was won over by the road inspection solution proposed by La Poste. In May, it signed a contract with Geoptis guaranteeing it a complete and accurate survey of damage to 100km of roads.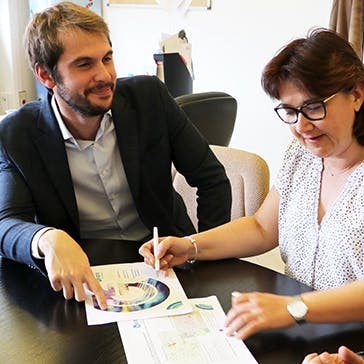 The Group's new road inspection solution, called Geoptis, was recently presented to Cergy town hall by Stephanie Angot, a sales representative at La Poste, and Baptiste Rouault, a Geoptis engineer. Geoptis makes it possible to geolocate anomalies in the municipality's asphalt. "We have a real lack of knowledge of our roads," says Viviane Nicolas, Director of Urban Services for the municipality of Cergy, which has signed up for this service. "We prefer to take a preventive rather than a remedial approach for our citizens. This package also includes inspecting the ageing of our street furniture. An important factor in our decision is that the postman is a trusted intermediary for this operation.
An effective survey offering excellent value for money
A visual recording is made by a camera fitted to the postman's vehicle during his rounds, without changing his delivery route. The rounds are selected according to the plan provided by the town hall and meticulous analysis of the videos makes it possible to detect damage to be corrected. In the event of doubt, a second sweep of the road is arranged. "It seemed obvious to me to offer them this turnkey solution," says Stephanie. "It provides an effective survey offering excellent value for money. It is a genuine survey of the state of the roads at a specific point in time. But it also produces a simulation of future damage over the next three years and anticipated costs. And it also offers security for the town halls which are responsible for the state of their infrastructure and for the ability of their fellow citizens to travel safely."