A parcel locker that comes to you!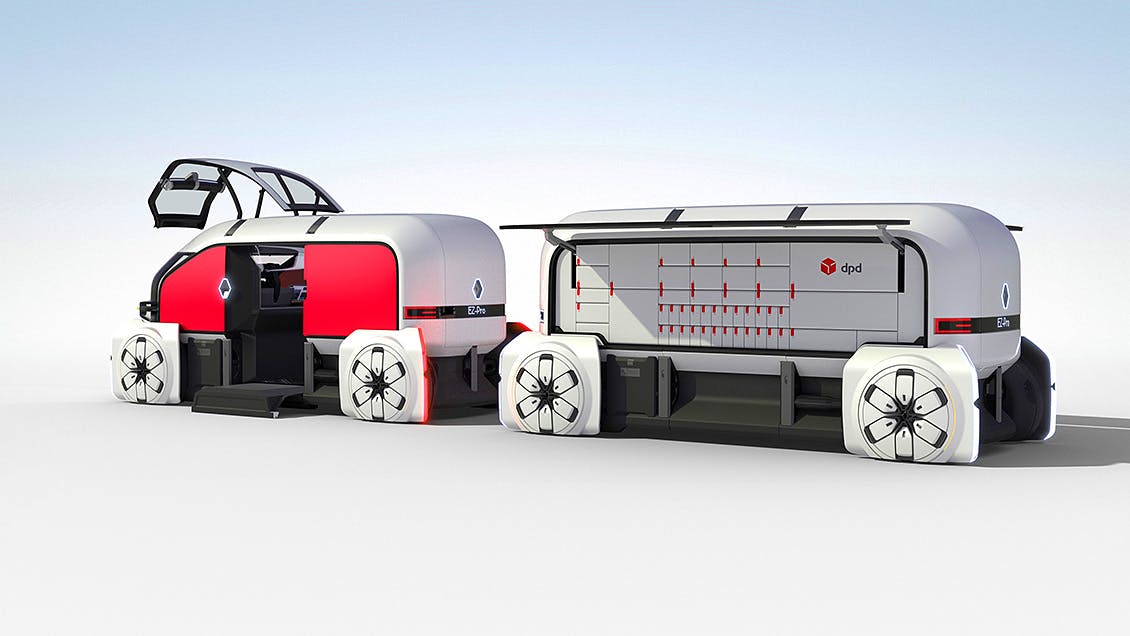 30'' to convince
The Renault EZ-PRO, unveiled on 19 September at the 67th commercial vehicles trade fair in Hanover, is an autonomous concept car. DPDgroup, Le Groupe La Poste's international parcel delivery network and a brand of the GeoPost Business Unit, is already looking at its potential uses: as a clean way of transporting parcels from the outskirts to city centres, or to deploy mobile lockers that travel to their end-customers.
La Poste's first major partnership with Renault is well-known: the Kangoo ZE in 2011. La Poste took an interest in this electric concept car as soon as it was presented at the Frankfurt Motor Show in September 2009. La Poste helped to define its functional characteristics, and has purchased 7,000 of the cars to date. Is history repeating itself in the partnership between DPDgroup, a subsidiary of La Poste, and Renault? This time it's all about an autonomous electric vehicle called the EZ-PRO, which could revolutionise deliveries in urban environments.
---
The EZ-PRO will be a clean vehicle that makes optimised, flexible trips. For example, it could incorporate a new destination as and when a new request for a product return is made online. When used for clean transportation of parcels to delivery staff, it represents a significant time saving and makes deliveries much less strenuous. Used as a mobile locker, it creates multiple pick-up points in the city, enabling end-customers to collect their parcels more quickly.
While cities are implementing traffic plans that aim to reduce the congestion and pollution created by vehicles, the global volume of parcels delivered to private individuals continues to grow, and is expected to double in Europe by 2025.
Against this background, delivery experts anxious to protect the urban environment while also offering the best service to their customers are coming up with innovative solutions. The autonomous vehicle created by Renault will allow a proportion of the volume to be delivered in a clean, flexible way in city centres.
DPDgroup is already envisaging two usage scenarios for the EZ-PRO
DPDgroup has imagined two scenarios: autonomous transport in city centres on the one hand, and mobile lockers on the other. Both scenarios pave the way for a delivery activity that is more respectful of the urban environment. In the second, end-customers also benefit from a highly personalised delivery service.
For autonomous transport in city centres, the parcels are loaded onto the autonomous vehicle in a sorting centre on the outskirts, then the vehicle travels entirely on its own to a specific location in the city centre. The delivery person is expecting it, and takes charge of its contents. Since the delivery addresses are in the immediate vicinity, travel time by road is eliminated and delivery agents have smaller distances to cover on foot. This represents significant progress in terms of making deliveries less strenuous.
Meanwhile, using the Renault EZ-PRO concept car as a mobile locker would allow the delivery round to be planned and end-customers to be informed via a notification. Customers would then be able to pick up or return their parcel from a given point in the city centre. Delivery could also be made at a time and place of their choosing.
Its last-mile expertise makes DPDgroup a partner of choice when it comes to drawing up future usage scenarios for the autonomous vehicle designed by Groupe Renault.
"For DPDgroup, working with Groupe Renault is immensely exciting. This project is fully aligned with our innovation and CSR programmes, which aim to simplify the day-to-day work of our delivery staff and to meet citizens' and local authorities' expectations in terms of the cities of the future," explains Thomas Steverding, Senior Group Manager of Process & Development at DPD Germany, who heads up DPDgroup's autonomous vehicles programme. "This project helps us to imagine how optimised deliveries could transform urban life in the future, with greener, more localised solutions." "The collaboration between our two brands can go even further," believes Philippe Divine, Director of the Light Commercial Vehicle Programme at Groupe Renault. "Its last-mile expertise makes DPDgroup a partner of choice when it comes to drawing up future usage scenarios for the autonomous vehicle designed by Groupe Renault."